~ Today's Mystery Photos ~
Paris Photo Quiz 8 - 'Botched Nose-jobs of Yesteryear'

Welcome to the great Paris Set Me Free ~ Paris Photo Quiz!The idea is simple: I post a pic I took in Paris, and you have to try and guess what or who or where it is. OK? Let's go.
Quiz 8: Statues. Statuesque, peut-être. With one outstanding, or maybe that should be instanding and unavoidably unfortunate feature...
Possibly the worst nose-jobs this side of Charlemagne...
Not that it's these fair demoiselles' fault, of course. They've probably seem more upheaval than I ever will even in my wildest poetreams.
Which brings me to this month's quiz. It's really very simple. Where are they? Bonus points if you tell me who they are too, but to be honest you could say anyone and I'd probably believe you...
Hint: The exterior wall may trick you, but it's as old as it looks...
Here's the video which gives you the answer to the
Paris Set Me Free ~ Paris Photo Quiz 7
, as well as some more discussion of the photos which are the subject of
Quiz 8
. Looking forward to hearing your ideas in the comments!
And feel free to comment even if someone has already guessed correctly - add more info, talk about similar places you know, share your little Paris stories or anecdotes... whatever - the more the merrier!
The
answer
and a
new mystery pic
in a few days!
_________________________________________
Paris Photo Quiz 7 - 'Holey Stone' ~ Answer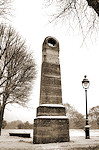 This is the 'Paris South Meridian', or something like that! In the old days (a couple of centuries ago) when Paris owned the beginning of time, there was this temporal virtual line running through the city from this thing to another in the North at Montmartre and beyond in both directions. The Paris Meridian, no less!
Unfortunately, time now begins in Greenwich, to the east of London and this five-metre high stone is mirely a relic of the past... Watch the vid for more details and... thanks for playing: same player play again!

Click on the little pic on the right to go to the big version and the original quiz question on the blog.
Subscribe to the Vidcast in iTunes !